5x Magnification Lighted Mirror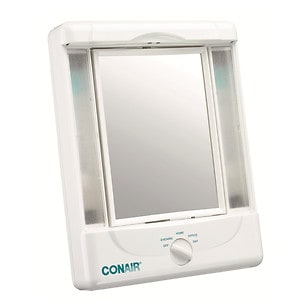 Lighting Simulates Day, Evening, Office & Home The Conair TM8LX double-sided lighted makeup mirror features 4 different light settings:  Day, evening, office and home.  So for just about every time of your day you know how you're going to look.  Switch between the regular viewing and the 5x magnification for detailed viewing.  It features a stand that adjusts to any angle and folds in for convenient storage.  The TM8LX also comes equipped with fog-free glass, so you can do your makeup or shave right after a hot shower. 5x/1x magnification Full size mirrors with incandescent light system Stand adjusts to any angle and folds for easy storage On/off switch UL listed Please Note: This item has been built to U.S. electronics specifications and may need additional modifications or converters to be used in countries other than the U.S. and Canada.
With an economical design, this mirror stows in suitcases, totes and storage bins and mounts to any wall with three large suction cups. What makes this mirror distinct is its versatile design; travel with this mirror and attach it to most walls by applying light pressure. The versatile design offers 5x Magnification and it measures 9 inches in diameter. When you leave for a vacation, dont leave behind your sense of fashion! Bring this nifty, compact mirror on vacations and business meetings and enjoy the elegance of a spa style mirror wherever you go! Jerdon Style has earned a reputation for excellence in the beauty industry with its broad range of quality cosmetic mirrors (including vanity, lighted and wall mount mirrors), hair dryers and other styling appliances. Since 1977, the Jerdon brand has been a leading provider to the finest hotels, resorts, cruise ships and spas worldwide. Jerdon continues to ...