Adjustable 3 Wheel Scooter
The Bobcat 3 Wheel Compact Scooter by Drive Medical is ideal for indoor and outdoor use and is lightweight and easy to operate. It has a 32.2" turning radius, with a top speed of 4 mph and a cruising range of 7.5 miles. It comes in a convenient, compact 4 piece design allows for easy tool free assembly and disassembly. The comfortable, height adjustable seat comes with flip back adjustable arms and anti-tipples to ensure users comfort and safety. The large carry basket provides a safe storage space for personal items and the tiller folds down for easy storage. If you're looking for added product protection, purchase the additional warranty coverage by adding Drive Medical's Piece of Mind protection to your scooter. Features and Benefits: Allows for 32.2" turning radius Comes with (2) 12Ah batteries Comes with anti-tippers Comes with large carry basket Comfortable height adjustable seat with flip back, ...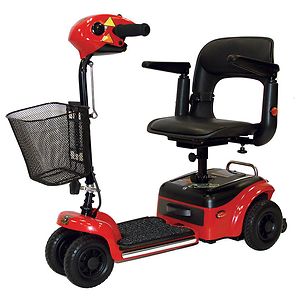 The Scootie 4-wheel portable mobility scooter has a narrow 17" width that makes it ideal for maneuvering on cruise ships.  The patented articulating front wheels allow 4-wheel stability with 3-wheel maneuverability.  Adjustable flip-up arms. Removable battery pack included. Convenient storage compartment for battery charger. Puncture proof tires. Overall Width: 17" Overall Height: 34" Overall Length: 37"- 40" Motor: 0.75HP Battery Type: 12V, 12AH x 2 Battery Charger: 2AH, off board Range: 10 miles Speed: 3.5 mph Weight Capacity: 250 lbs. Weight of Heaviest Part: 25 lbs. Weight w/o Battery: 60 lbs. Weight w/ Battery: 82 lbs. Ground Clearance: 2" Grade Climbing: 8o  Turing Radius: 40" Tire Size: 7" x 8" Front and Rear 1 1 year warranty on parts. Labor service is included only within 30 days of purchase. Customer must pay labor charges after 30 days. Batteries -- 6 months Please call with any questions or need of assistance at ...