All Day Lightweight Lotion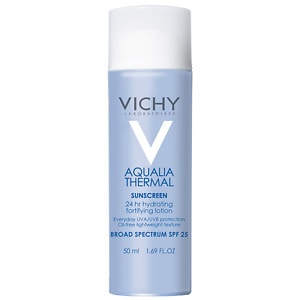 24 Hr Hydrating Fortifying Lotion Sunscreen | Broad Spectrum SPF 25 Vichy Thermal Spa Water Everyday UVA/UVB Protection Oil-Free Lightweight Texture Normal Skin Indications Hydration & UVA/UVB Protection for sensitive skin.  When skin becomes dehydrated, its protective barrier is weakened.  The skin is more vulnerable. Innovation For the 1st time at Vichy, an ultra-refreshing moisturizer associating Vichy Thermal Spa Water with broad spectrum protection against UVA & UVB rays. UVA/UVB Protection | Broad Spectrum SPF 25 Sunscreen Helps provide everyday protection from harmful UVA/UVB rays which may cause skin damage. Vichy Thermal SPA Water | Effectiveness Clinically Tested A water exceptionally rich in rare minerals to fortify & soothe the skin: Anti-Oxidant Properties to fight against free radicals caused by external aggressions It helps strengthen the natural protective function of the skin & soothe sensations of discomfort, even on sensitive skin. Efficacy Immediately, the skin ...
Introducing L'Oreal Paris' first oil-infused lotion with broad-spectrum sun protection. Restore skin's youthful glow with Age Perfect Glow Renewal SPF 30 Lotion.  It deeply nourishes and replenishes dull, dry skin of the face, neck and chest with a unique blend of 5 Essential oils:  English lavender, rosemary leaf, geranium, orange peel, roman chamomile.  The non-greasy and luxuriously lightweight formula absorbs quickly for all-day hydration.