Anti Aging Hypoallergenic Cream
Clinically Proven To : Smooth wrinkles around the eyes Visibly reduce crow's feet Improve skin's elasticity RoC® has been a leading French skincare brand for over 40 years, devoted to developing anti-aging products that guarantee visible and lasting results for healthier, younger-looking skin. Strong partnerships with dermatologist have contributed to our expertise in understanding skincare and developing clinically proven products, which are highly effective, yet suitable for all skin types. Your eyes are the first part of your face to show your age. RoC® has created RoC® Retinol Correxion™ Eye Cream , an exclusive formula of pure RoC® Retinol and an Essential Mineral Complex, clinically proven to give you younger-looking, healthier-looking skin around your eyes. Advanced age fighting technology, especially formulated for use around the delicate eye area. Oil Free Hypoallergenic Non-comedogenic (won't clog pores) Ophthalmologically tested For tips on optimizing your skincare ...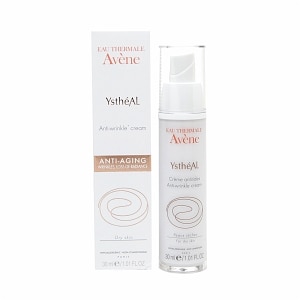 Skin Looks Smoothed While Wrinkles & Fine Lines are Visibly Reduced Anti-Aging, Wrinkles, Loss of Radiance For Dry Skin Hypoallergenic & Non-Comedogenic Fragrance Free & Paraben Free Ystheal Anti-wrinkle* cream preserves the skin's youthful appearance.  It helps prevent & diminishes the signs of skin aging, which are mainly caused by UV rays, thanks to a unique combination of ingredients: Retinaldehyde, a benchmark anti-aging ingredient, which clinically & dermatologically proven visible Anti-wrinkle efficacy EP Patent G.G.O., protector of skin elastin Pre-tocopheryl, a powerful antioxidant to help prevent the signs of aging Smoother & fuller, the skin regains its tone & elasticity & appears more radiant.  With its rich texture & high concentration of soothing Avene Thermal Spring Water, Ystheal Anti-wrinkle* cream is formulated for dry skin, providing essential hydration while leaving skin supple.  Its good tolerance has been tested on sensitive skin. Guarantees of Quality: ...