Aspartic Acid Supplements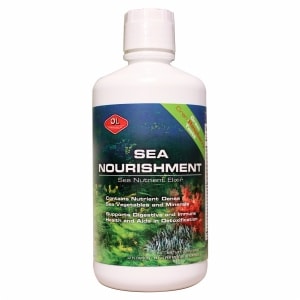 Dietary Supplement Nature's Liquid Vitamin Supplement Contains Coral Calcium Organic Silver & Trace Minerals Olympian Labs has done it again! We've formulated one of the most comprehensive sea supplements available. Sea Nourishment contains a complete array of sea vegetables, enhanced with organic silver and coral calcium to give you a full spectrum of trace minerals valuable to your nutritional well being. Sea Nourishment will also tantalize your taste buds with its' natural Cran-Raspberry flavor. Olympian Labs has stepped into the spotlight as the leader in research and development for the natural health food industry. When you buy Olympian Labs products, you are getting the latest technology in product bioavailability and assimilation. Since 1992, the Research and Development team at Olympian Labs have created hundreds of original nutraceutical formulations contributing to the phenomenal growth of the healthy food industry. Always insist on the best. Always insist on Olympian ...
52g Mass gainer whey protein. * Ultimate muscle mass formula. * Artificial Flavored Prolab® N-Large2 is a powerful mass gaining formula designed to promote size on the hardest gainers. We emphasize the amount of protein per serving since it is the essential nutrient that promotes muscle mass. Prolab® N-Large2  also contains a specail blend of carbohydrates to help fuel and support weight training. Fat, although shunned by some, is a highly concentrated energy source (double that of protein or carbohydrates). Fat is also a necessary component of all cell membranes, nerve covering, digestive secretions and most importantly, hormone production. A diet too low in fats may actually impair growth. For these reasons, small amounts of fat are contained in N-Large2 52g   Mass Gainer Whey Protein. For best results, combine with a sensible diet and intense training program. * *These statements have not been evaluated by the Food & Drug Administration. Promotes lean body mass * Blend of ...
Dietary Supplement What It Is For nearly thirty years, more champion bodybuilders and athletes have used Uni-Liver™ than any other brand.  Why?  Uni-Liver™ is perhaps the most nutritionally-dense amino acid formula in the world.  Each 30 grain Uni-Liver™ tablet is packed with the highest quality glandular substance derived from prized, grass-fed (hormone-free) Argentine beef.  Uni-Liver™ contains a full spectrum of amino acids as well as many other necessary and essential nutrients. Natural Desiccated & Defatted Argentine Cold Processed for Optimum Purity Grass-Fed, Hormone-Free Typical Amino Acid Profile - Grams of Amino Acids in 100g of Liver L Alanine 5459 mg L Arginine†† 6671 mg L Asparagine 277 mg L Aspartic Acid 5796 mg L Glutamic Acid 11137 mg L Glycine 6134 mg L Histidine 1061 mg L Isoleucine 3121 mg L Leucine 5911 mg L Lysine 4634 mg L Methionine 2622 mg L Phenylalanine 3657 mg L Serine 4141 mg ...