Automatic Rechargeable Shaver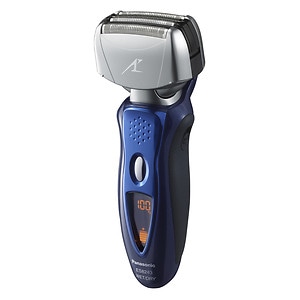 Wet/Dry ~ Rinses Clean Rechargeable   New Arc IV shaver with Quadruple arc foil, nanotech blades, LCD, Wet/Dry technology, Turbo cleaning mode and pop up trimmer in blue Pro-Curve ® Linear Pivot Action Shaving System Panasonic introduces a safe and effective method to clean and charge your shaver. Automatic International Voltage Conversion Shaves wet or dry: Get an ultra-smooth shave every day, and the convenience of using the shaver wet or dry! Pop-Up trimmer: Full-width Trimmer pops up to groom moustache and side sideburns. Attractive slim design: Lightweight, ergonomic design is easy to hold and easy to use. Pivoting head : Pivoting head rocks both up and down and back and forth, following the contours of your face. Sharpest* Blades: Conventional shavers only cut at 45-90 degree angles. Vortex gives you're the sharpest blade able at 30 degrees for the ultimate in precision shaving. Triple Blade Shaving: Center slip blade ...
UltraTrack Heads | 3-Way Flexing Heads Philips Norelco Sense & Simplicity Wet & Dry Electric Razor with Precision Trimmer Designed for Comfort Innovative Technology for Promoting a Closer Shave Protective Seal for Wet or Dry Shaving Advanced Chrome Display Cordless, Travel-Friendly Design The innovative Philips Norelco SensoTouch 3D electric shaver features an advanced touchscreen display and GyroFlex 3D technology for promoting a close, comfortable shave.  Its shaving heads follow 3 specialized tracks to help catch every hair. Designed for Comfort Contour-Following Shaver Helps Minimize Pressure & Irritation Smooth Surface Helps Glides over Your Skin Skin Friendly Precision Trimmer Innovative Technology for Promoting a Closer Shave Shaving Heads Help Catch & Trim Every Hair Shaver Lifts Hair to Support Cutting below Skin Level Protective Seal for Wet or Dry Shaving Comfortable Shaving, Wet or Dry, Thanks to the AquaTec Seal Advanced Chrome Display Touch-Control Display Lets You ...
Rechargeable Shaver Wet/Dry Washable 4-Blade, Multi Flexible Active Head:   Follows the contours of your face for a more comfortable uniform shave. Multi-fit Arc Blades:   For uniform, even pressure on the chin and an evenly contoured shave Ultra-thin Vibrating Outer Foil:   At only 41 micrometers, the outer foil is incredibly thin, and it's subtle vibrations lift the hair follicle for the closest shave possible. Nanotechnology:   30 degree inner blades-our sharpest Fast, Linear Motor Drive:   A rapid fire 14,000 cycle per minute linear motor drive delivers a smoother, cleaner shave. Fully automatic self-cleaning system and charging system :  Cleans, dries, and charges unit automatically Illuminated Blue LCD Switch Lock Button Course selection:   Allows you to individually select washing or drying or charging only Compact size:   Space saving 3.7 inch wide design fits neatly beside the sink   Travel case: includes soft case for main unit ...