Bamboo Lifting Beauty Product
Beauty That's Sustainable. New! Bamboo Silk Conditions Tones Lifts Highly sustainable, nutrient-rich and illuminating Bamboo Silk Powder delivers skin-renewing & skin-conditioning benefits for the ultimate bronze glow: Remineralizes - Revives skin with essential minerals needed to maintain an even skin tone, texture & healthy-looking complexion Rebalances - Absorbs excess oil for a fresh, comfortable feel and finish without a drying effect. Restores - Smoothes skin surface and blurs fine lines while providing a toning & lifting effect that begins upon application. Packaging That's Sustainable Bronzer Refill fits easily into the Bamboo Compact with magnets to keep it in place.  Your empty refill pan can be recycled and the Bamboo Compact can be reused. Bamboo is a highly renewable resource and its natural sustainability, durability and beauty make it ideal for a reusable compact. Free of Harsh Chemicals, Synthetic Preservatives, Parabens, Synthetic Colors, Synthetic Fragrances ...
A Natural Acne Fighting System Proven to Work Yes to Tomatoes 3-Step Acne System Kit includes: Daily Pore Scrub (4 oz/113 g) Your first step to clear skin starts with a deep, acne-fighting cleanse, with gentle exfoliation to get rid of pore-clogging dirt, bacteria, and impurities.  Ground Mango Seeds and Bamboo exfoliate skin and help skin turnover a clean, clear surface.  Salicylic Acid, the acne-fighting medication, penetrates pores to combat acne, blemishes, and sebum before they reach the surface.  Ahhh... yes to a clean start. Repairing Acne Lotion (1.7 fl oz/50 ml) After cleansing, apply our feather-light, quick-absorbing Repairing Acne Lotion that is oil-free and non-comedogenic, so it's gentle on your skin but does the heavy lifting.  All-natural Salicylic Acid penetrates pores to clear up blemishes and allow skin to heal.  A blend of Bisabolol and Ginger helps control redness caused by acne, and Witch Hazel helps control oil and ...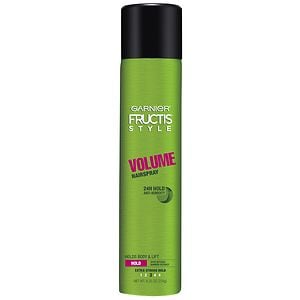 All-Day Humidity Resistance with natural Bamboo Extract Provides Bounce-Back Hold Introducing our first ever hairspray with bamboo extract and anti-humidity protection for long-lasting hold and natural, healthy-looking movement. Why Bamboo? Selected for its strength, suppleness and resilience, bamboo bends but never breaks.  This formula keeps you in control of your style with frizz control and bounce-back hold that lasts all day. What is Volumizing Hairspray? This volumizing hairspray lifts from root to tip to boost flat, tired hair with body, fullness and an extra strong hold - even with moisturize in the air - all day, every day. Meets all state and federal clean air standards. For styles and tips visit garnier.com.  1-800-4Garnier (1-800-442-7643) Made in Canada