Biodegradable Wood Cleanser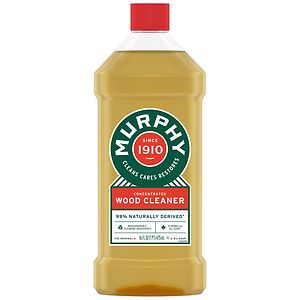 Please note: Due to packaging updates, the image shown may temporarily appear different from the product received. Safely cleans wood. Pure Vegetable Oil Soap Beautifully cleans wood and laminate surfaces.  No dulling residue. Murphy's® Oil Soap has been trusted for over 90 years as a naturally gentle cleaner.  It is ideal for cleaning wood and other household surfaces and is kind to hands. Finished Wood Surfaces Wood floors Wood paneling Cabinets Painted wood Tables, chairs and bookcases Non-Wood Surfaces No-wax floors Ceramic tile Painted surfaces Laundry stains Cars Leather and vinyl Biodegradable Phosphate Free Questions or Comments?  Call 1-800-486-7627 Made in the U.S.A.
In a Word Salutiferous ~ Citrus Stimulus Surprisingly Green ~ Moisturizing Clean Shea Butter Body Bar Made with Organic Orange Peel Superb Fair Trade Shea Butter Lemongrass Oil Palm & Coconut Oils Lime Oil Orange Oil Orange Peel  An Innocent Little Company Cruelty Free ~ Biodegradable ~ Vegan No big parent company or shareholders to appease, just a nice, honest quest for cleanliness.  What we lack in corporate clout we make up for with our environment ethos.  This soup, loaded with the finest orange, lemongrass & lime , ignites your morning spirit.  Now, is that too much to ask of a shower? We Believe In harnessing the purity of the best things in nature - and then giving something back.  That's why we use recycled packaging & renewable energy, pursue zero-waste, sustainable business practices & donate 3% of sales to non-profits.  That makes clean skin for a clean conscience.  We oppose all animal testing, ...
Fragrance No. 17 Aromatherapeutic Homekeeping Made with Essential Oils of Neroli, Lemon & Sea Salt Fragrance Caldrea® Sea Salt Neroli Hand Soap keeps hands clean, fresh and fragrant.  Rich base notes of wood and sophisticated musk balance the suggestion of salt air and connect the sea to the shore.  This well-crafted, innovative fragrance composition invites you to breathe in and escape to memories of your favorite, sun-soaked coastline. We added aloe vera gel, olive oil and a unique blend of essential oils to create a hard-working, yet softening cleanser for your hands.  Our beautiful bottle looks handsome in both kitchen and bath. Paraben-free.  Biodegradable. Not tested on animals. Please recycle all packaging where facilities exist. 1-877-576-8808 Made in USA