Coated Nervous System Tablets
Dietary Supplement Nervous System Support 200 mg With B-vitamin Cofactors Supports Emotional Well-Being Supports Joint Health* Enteric Coated Vegetarian Formula SAMe (S-adenosylmethionine), a compound native to the body, is a critical component of many biochemical reactions, including those that affect brain biochemistry and joint health. Numerous studies have indicated that SAMe can help to temporarily alleviate aches and pains resulting from overexertion or stress. Therefore, SAMe is an all natural product that can be part of a nutritional program for pain management. In addition, because SAMe is also necessary for the synthesis of neurotransmitters, it plays an important role in the regulation of mood. NOW® SAMe is enteric-coated, which makes it very well tolerated and protects it from degradation.* Contains no: sugar, salt, wheat, gluten, soy, milk, egg, shellfish or preservatives. Vegetarian/Vegan Product. *These statements have not been evaluated by the FDA. This product is ...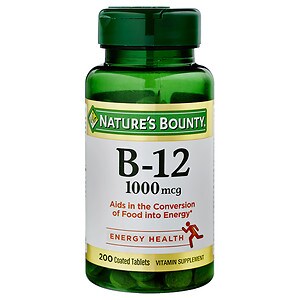 Dietary Supplement Value Size Supports Energy Metabolism* Coated For Easy Swallowing The B vitamins play a role in energy metabolism in the body.*  Vitamin B-12 is essential for the normal formation of blood cells and contributes to the health of the nervous system.* No Artificial Color or Flavor, No Preservatives, No Sugar, No Starch, No Milk, No Lactose, No Soy, No Gluten, No Wheat, No Yeast, No Fish.  Sodium Free. Suitable For Vegetarians Laboratory Tested ~ Guaranteed Quality 1-800-433-2990 Made in USA *These statements have not been evaluated by the Food and Drug Administration.  This product is not intedne3d to diagnose, treat, cure or prevent any disease.