Enteric Coated Liver Tablets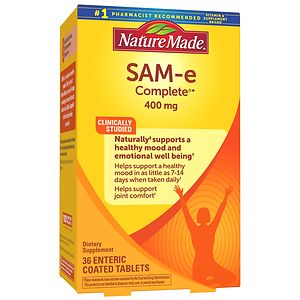 Please note:  Due to packaging updates, the image shown may temporarily appear different from the product received. Clinically Proven Sam-e (S-adenosylmethionine) - Dietary Supplement 36  ~ Enteric Coated Tablets, 400mg Mood Support - Joint Pain Relief - Liver Health Improves Mood Naturally* Limited Warranty to Consumers - Good Housekeeping Promises Replacement Or Refund If Defective SAM-e (S-adenosylmethionine) is a naturally occurring compound found in all living organisms.  In humans, SAM-e is distributed throughout the body and is involved in many important biochemical processes.  Since significant amounts of SAM-e   are not available through diet alone, the body is primarily responsible for producing its own SAM-e .   Scientists know that SAM-e declines as people age and that certain groups of people, including those with low mood and liver conditions, tend to have lower levels of SAM-e in their bodies.  Over 100 clinical studies involving thousands of people have proven that ...
Dietary Supplement Support for Joints, Liver Health, Neurotransmitters & Methylation Enteric Coated Tablets Helps Regulate the Body's Normal Inflammatory Processes May Optimize the Synthetic / Degradative Rate of Neurotransmitters May Decrease Cholestasis by Optimizing a Healthy Flow of Bile to the Gastrointestinal Tract This product contains No yeast, wheat, gluten, soy protein, milk / dairy, corn. Formula #98304 Manufactured in the USA *These statements have not been evaluated by the Food and Drug Administration.  This product is not intended to diagnose, treat, cure or prevent any disease.
Science-Based Nutrition™ Dietary Supplement with 200mg Active S-Adenosyl Methionine Per Tablet Enhances Mood & Neural Function Promotes Joint Comfort & Mobility Supports Liver Health & Detoxification Pharmaceutical Grade Made in Italy Sealed in Blister Packs for Freshness & Convenience Our SAMe 200 contains 200mg of active SAMe in each tablet. Doctor's Best utilizes only the highest quality Italian SAMe available on the market. This ensures that you receive the most potent SAMe product with the highest percentage of the active S,S form per serving, bar none. S-Adenosyl Methionine (SAMe) is derived from the amino acid methionine and is one of the most important methyl donors in the central nervous system. Methylation (donation of methyl groups) is an essential process in ensuring the proper function of a number of organ systems. SAMe is involved in numerous biochemical reactions in tissues including the liver, joints and brain. SAMe is also required for ...