Enzymatic Therapy Softgels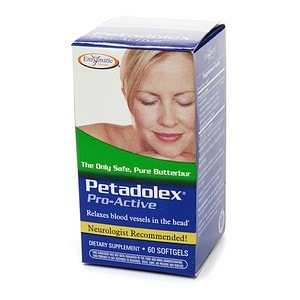 Dietary Supplement Neurologist Recommended! The Only Safe, Pure Butterbur Relaxes Blood Vessels in the Head* The Proven Power of Petadolex®! Results from 3-month clinical studies conducted by neurologists show Petadolex Pro-Active can reduce occurrences by as much as 62% following 2 months of continuous use.* Enzymatic Therapy's Petadolex® Pro-Active contains pure butterbur extract to support healthy blood vessel tone in the head, as well as normal blood flow in the brain.* For soothing comfort that improves with continued use, trust Petadolex Pro-Active for your entire family-it's clinically studied to be well tolerated, produces no significant adverse effects and is effective in both adults and children!* Contains no sugar, salt, yeast, wheat, gluten, corn, soy, dairy products, artificial flavoring, or preservatives.  All colors used are from natural sources. 1-800-783-2286 Made in Germany *This statement has not been evaluated by the Food and Drug Administration.  This product ...
Dietary Supplement Natural Stable Fish Oil® Free from Mercury and other Heavy Metals Ultra-Pure Omega-3 Why Should You Care About Stability? If your fish oil is unstable, it can result in: Free-radical formation Destruction of nutrients Unpleasant odors and flavors The natural EPA and DHA ratio and antioxidants in Eskimo-3 supply exceptional stability and prevent dangerous rancidity to ensure the highest Potency, Purity and Quality. Guaranteed Potency One of the world's most clinically-studied fish oils - the subject of more than 120 scientific reports The highest concentration of Omega-3 naturally obtainable from fish oil Guaranteed Purity Several independent studies have shown Eskimo-3 to be the world's most pure and stable fish oil Naturally stable - up to 10 times more stable than other leading fish oils Guaranteed Quality Natural antioxidants prevent dangerous rancidity with no fishy aftertaste Several independent studies have shown Eskimo-3 to be the world's most stable fish ...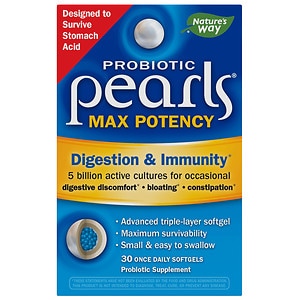 Lactobacilli & Bifidobacteria Supplement Digestive Health* Natural Protection against Occasional : Gas Bloating Constipation High Potency Advanced 3 layer softgel Guaranteed active cultures Survives stomach acid The Smarter Probiotic™ Stress, diet, travel and age are some of the things that disrupt the balance of healthy bacteria in your digestive tract. Taking just one Probiotic Pearls softgel a day helps restore and maintain healthy digestive balance* by providing active probiotic bacteria to : Promote digestive and colon health.* Protect against occasional gas, bloating and constipation.* Support your body's  natural immune defense.* How do Probiotic Pearls provide " total " digestive balance? Probiotic Pearls softgels contain multiple types of probiotics to benefit both parts of the intestine : Lactobacilli for the small intestine Bifidobacteria for the large intestine/colon What makes Probiotic Pearls unique? Probiotic Pearls feature a proprietary 3-layer softgel that ...