EO Organic Biodegradable Soap
Fun. Foaming. Fragrant. Aloe Vera, Lavender Essential Oil, Chamomile Extract, White tea, Calendula Our fun and richly foaming soap cleanses and nourishes right out of the bottle for even the most sensitive skin with pure and soothing botanicals.  Aromatic French Lavender calms the senses and promotes a sense of well-being. French Lavender Essential oil heals and nurtures skin. pH Balanced and Biodegradable. Great for the whole family. Organic Calendula, Chamomile and White Tea botanicals harmonize and replenish skin. Coconut cleansing complex creates gently cleanses without drying skin. EO Love Life. Live Clean® Paraben Free | Polysorbate Free | Disodium EDTA Free | GMO Free Long held as a symbol of purity, the lotus flower is an aspiring gift of nature.  Found in murky waters, the lotus produces blossoms that are radiant and pure. EO® is a leading manufacturer of natural and organic products that are great for you and the ...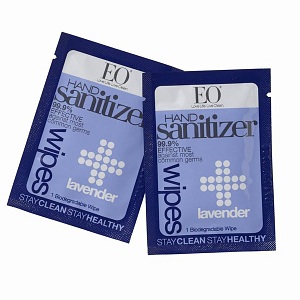 Cleans, Sanitizes & Moisturizes Organically Take EO everywhere you go - purse, car, stroller, gym bag... 24 Biodegradable Wipes Picture this... There were two hands and zillions of germs. Each hand busy, doing all the things of the day and zillions of germs trying to stay involved in whatever is going on. Using EO Hand Sanitizer keeps both hands refreshed, healthy and clean while keeping germs out of the picture. EO Hand Sanitizer - the organic, plant based alternative to chemical laden hand sanitizers. Organic Lavender Essential Oil is naturally cleansing and soothing. Organic Alcohol (non-GMO) sanitizes on contact. Soothing Aloe Vera nourishes & moisturizes. Wood pulp towelette is biodegradable Love life. Live clean. Be mindful of what you put on & in your body. Visit us at EOproducts.com and learn more about our products, essential oil and the health issues surrounding personal care products. Choose wisely. The Organic Way ...