Gluten Free Moisture Conditioner
Made with Certified Argan Oil Repair | Protect | Shine Adds incredible softness and shine Protects from thermal damage Speeds drying time up to 30% Restores optimal moisture balance Revitalizes and repairs Enriched with Omega-6 and anti-oxidants Made with certified Argan oil of Morocco DermOrganic® Leave-In Treatment, based on Moroccan Argan Fruit Oil, has the unique quality of instant absorption into hair.  It restores shine and softness while strengthening brittle hair.  Replenishes nourishment to dry, damaged, colored hair. Protects hair from styling heat and UV damage. Speeds Up Drying Time DermOrganic® Leave-In Treatment has the unique property of speeding up blow dry time by up to 30%!  The heat from your blow drier makes the Treatment more viscous, allowing it to penetrate into the hair, displacing water trapped under the cuticle and allowing your blow drier to finish the hair quickly. Why is it so good? Unlike other Argan Oil based ...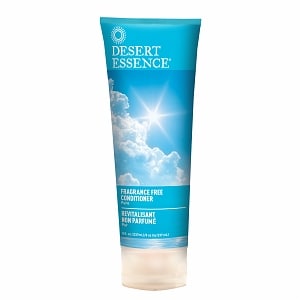 Dessert Organics® Fragrance Free Conditioner ~ Pure Desert Essence Organics Fragrance Free Conditioner is a gentle yet effective unscented conditioner. The ingredients work synergistically to create gloss and shine. Organic Extracts and oils provide moisture, minerals and vitamins that hair needs to grow healthy. Organic Green Tea: Rich in antioxidants and polyphenols, Green Tea gives the hair gloss and shine. Organic Jojoba Oil : An ingredient that works on the scalp to leave the hair feeling moisturized and revitalized. Organic Sunflower Oil : Moisturizes the hair and scalp without leaving a greasy residue. 100% Vegan Wheat & Gluten Free NO: parabens, Sodium Lauryl/Laureth Sulfates, phthalates, artificial fragrances or colors, silicones, EDTA, glycol or petroleum based ingredients. Cruelty free and Biodegradable No animal testing of raw materials or finished products No Phosphates
Love Life.  Live Clean. French Lavender Essential Oil is therapeutic and nurturing for coat brilliance. Gotu Kola supports a lush, full coat. Quinoa Protein, high in amino acids fortifies, conditions and repairs active coats. Hibiscus, rehydrates keratin fibers adding luster and smoothness. Organic Jojoba Oil, Coconut and Olive Oils lightly condition to restore coat softness. Naturally derived Panthenol (Vitamin B) and Glycerin aid in moisture retention, hydrating the coat. Allantoin, Aloe Vera and Vitamin E nurture and promote skin and coat health. Rich Rice Proteins nurture the radiance of pet skin and hair. pH balanced Formula for dogs. Biodegradable, cleansing and extra gentle.  EO® Natural Dog Conditioner is specifically formulated with natural and organic ingredients to deeply moisturize your pet's fur.  This gentle and soothing formula combines natural and organic botanicals to cleanse and protect active dog coats from daily environmental effects.  EO® Natural Dog ...