Immune System Support Supplement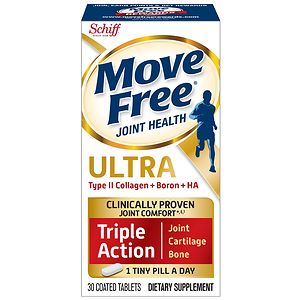 Dietary Supplement Just 1 Small Tablet Per Day Works Differently & Is More Effective Than Glucosamine & Chondroitin Alone. Helps Improve Joint Mobility Lubricates & Protects Joints With UC ll & Hyaluronic Acid What makes the UC-ll® found in Move Free® Ultra better than other forms of collagen on the market? UC-ll® is Undernatured Type ll Collagen materials. Protecting the native shape and structure of Undernatured Type ll Collagen by patented process is key to unlocking the power of oral tolerance for joint health. Small amounts of UC-ll® can trigger oral tolerance, which via the immune system sends a signal to the joints to maintain healthy structures. The result is improved joint comfort and range of motion. With some other types of collagen, you need higher doses in order to have an effect on joint health. Take Just 1 small Move Free® Ultra Tablet per day compared to 2 Large ...
Dietary Supplement Natural Probiotic With B. Infantis 10 mg Contains 4 Strains of Natural, Beneficial Bacteria Helps to Support & Maintain a Healthy Digestive System* Promotes Gastrointestinal Health* Promotes Digestive System Balance* Supports a Healthy Immune System* 28 Caplets | 4 Week Supply Releases Gradually Over Time to Protect Delicate Probiotics from Stomach Acids Compare the Differences of 4X Probiotic to Align®† 4X Probiotic Align Bifidobacterium Infantis Per Serving 10 mg 4 mg Bifidobacterium Infantis Strain SD-5845 35624 Probiotic Blend B. Lactis B. Longum B. Bifidum 15 mg -- Total Live Probiotic Cells when Manufactured 5-Billion 1-Billion Form of Product Gradual-Release Caplet Capsule A Few Words on Probiotic Bacteria The body needs beneficial bacteria for digestive system health.*  Bifidobacteria are an important component of the intestinal microflora.  As we age, the numbers of Bifidobacteria may be reduced.  Other lifestyle factors, such as diet and stress, may ...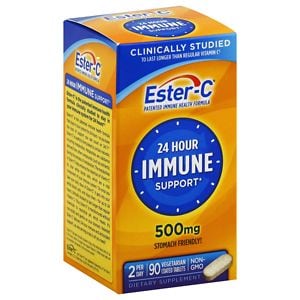 The Better Vitamin C™ Enhanced Absorption With C-Sorb™ Non-Acidic - Stomach Friendly! 24 Hour Immune Protection* Ester-C® is a patented ingredient that provides powerful immune system support.* It is quickly absorbed and gentle on your stomach.* Ester-C® also contains C-Sorb™. Ester-C®, along with C-Sorb™ and naturally occurring metabolites, works synergistically to enhance the absorption and retention of Vitamin C in your body. In a clinical study, white blood cell levels of Vitamin C were elevated in subjects receiving Ester-C® when measured 24 hours after initial dose. Ester-C® gives you powerful immune system support at the cellular level for up to 24 hours - to help keep you health.* Ester-C® is non-acidic. That means it's stomach-friendly. Ester-C® is gentle on your stomach so you can feel comfortable taking it every day. Enhanced absorption. Stomach-friendly. Powerful immune support.* That's what makes Ester-C®...The Better Vitamin C™. Ester-C® gives you powerful immune ...