Memory Concentration Herb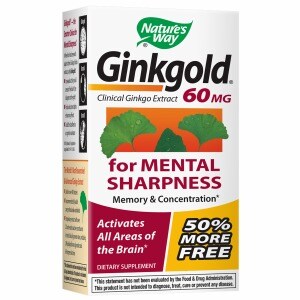 New Look, Same Formula!  50% More Free World's #1 Selling Ginkgo For Mental Sharpness, Memory & Concentration* Activates All Areas of the Brain Ginkgold® works best for mental function.   In head-to-head research against other Ginkgo extracts: Only Ginkgold increased activity in all areas of the brain*. Only Ginkgold produced potent alpha-enhancing effects. Only Ginkgold could be classified as a cognitive activator. Itil TM, Martorano D, Psychopharmacology Bulletin 31:147-158, 1995 The world's #1 selling and researched Ginkgo extract. Used in over 400 studies and recommended by healthcare professionals worldwide, Ginkgold is more than just 24% ginkgo flavone glycosides and 6% terpene lactones.  Patented Ginkgold is a complex extract with over 20 active and coactive constituents in their clinically proven ratios (US patent #5399538). Improved Memory & Concentration Ginkgold®is clinically shown to improve mental sharpness and stimulate an increase of activity in all areas of the ...
Dietary Supplement Supports Healthy Brain Function, Memory & Concentration* Liquid Herbal Extract The herbs used to prepare this compound are Certified Organically Grown without the use of chemical fertilizers, pesticides or herbicides.  They are hand-harvested at their optimal potency, and are then promptly extracted while still fresh & succulent or after being carefully shade-dried. Contains Extracts of: Gotu Kola herb (Centella asiatica) Ginkgo leaf (Ginkgo biloba) Skullcap flowering herb (Scutellaria lateriflora) Sage leaf (Salvia officinalis) Rosemary branches (Rosmarinus officinalis) These herbs are never fumigated or irradiated. *This statement has not been evaluated by the Food and Drug Administration.  This product is not intended to diagnose, treat, cure or prevent any disease.