Moisturizing Therapeutic Hair Care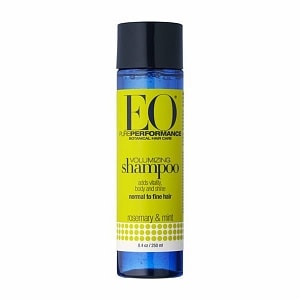 Love Life.  Live Clean. Rosemary Essential Oil stimulates follicles for stronger, fuller hair. Peppermint Essential Oil cools and soothes dry and flaky scalp. Gotu Kola revitalizes hair follicles to improve hair growth and health. Quinoa Protein, high in Amino Acids, fortifies, conditions and repairs hair. Hibiscus, rich in Alpha Hydroxy and Amino Acids, rehydrates keratin fibers adding luster and smoothness. Panthenol and Glycerin aid in moisture retention, increasing elasticity and thickening hair. Organic Calendula, Chamomile and White Tea botanicals harmonize and replenish. Aloe Vera and Vitamin A improve scalp health with powerful antioxidants. Plantain, Nettle and Ginseng Extracts revitalize hair follicles to improve hair growth while adding volume. Maiden Hair and Watercress Extracts work together to optimize oil balance. pH Balanced and Biodegradable coconut cleansing complex creates a gentle foam to clean naturally. Volumizing and Balancing EO® Rosemary & Mint Shampoo ...
Love Life.  Live Clean. French Lavender Essential Oil is therapeutic and nurturing for coat brilliance. Aloe Vera, naturally moisturizing, promotes coat health. Organic Botanicals of Calendula, Chamomile and White Tea soothe and calm naturally. Naturally gentle without irritating Sodium Laureth and Lauryl Sulfates. pH balanced Formula for dogs. Biodegradable, cleansing and extra gentle. Clean, Refresh and Restore your dog's coat naturally with wholesome EO® Natural Dog Shampoo.  This gentle and soothing formula combines herbal, organic and natural ingredients to cleanse and protect your dog's coat.  Full, rich lather gently removes dirt, rinses off easily and helps to relieve itching caused by dryness.  This unique formula leaves dog fur silky soft while supporting and maintaining a healthy and vibrant coat with regular use.  We choose to use only pure essential oils and other natural botanicals to treat your dog to happy and healthy grooming. Paraben Free  Polysorbate Free  ...