Moisturizing Wax Skin Care
A Juicy & Spicy, Blood-Orange Blend with Sensuous Strawberry & Raspberry Notes Whether you are jet-setting off to an exotic destination or daydreaming at your desk, indulge your wanderlust anytime with these perfectly-sized travel companions.  Gorgeous sheer color, skin-loving naturals and magical fragrances will instantly transport even the most seasoned adventurer.  Travel well! xo, Brook Roll-On Perfume: A perfectly portable way to experience Pacifica's signature fragrance blends. Body Butter: A travel size of our intensely moisturizing cream, rich with skin-loving naturals. Color Quench Natural Moisture Lip Tint: Big hydration and sheer color in a tasty treat that feeds your lips with all natural coconut oil and essential fatty acids. Set includes: 0.33 oz (10ml) Tuscan Blood Orange Perfume Roll-On 2.5 oz (73ml) Tuscan Blood Orange Body Butter 0.25 oz (7g) Tuscan Blood Orange Color Quench Natural Moisture Lip Tint Ingredients: Perfume Roll-On:  Alcohol Denat. (Natural Grain), ...
Natural Care The Power of Camomile Free of preservatives & chemical anti-oxidants Produced with plant-based ingredients & natural bees wax Dermatologically tested Suitable for sensitive lips Herbacin lip balm contains valuable pure vegetable oils and active ingredients of organically grown camomile.  Makes lips noticeably soft and smooth, provides reliable protection and helps prevent dehydration.  The moisturizing ingredients ensure lips are taken care of naturally. Made in Germany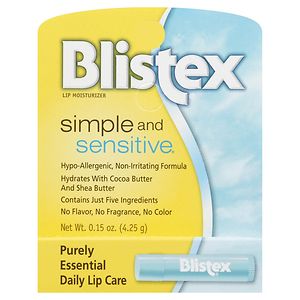 New! Hydrates with Cocoa Butter, Jojoba & Sunflower Seed Oil Hypo-Allergenic, Non-Irritating Formula Contains Just Six Ingredients No Flavor, No Fragrance, no Color Purely Essential Daily Lip Care Blistex Simple and Sensitive contains just six carefully chosen ingredients to moisturize even the most sensitive lips effectively and without irritation...for care your lips will love. Non-Irritating With no flavors, fragrances, colors, or unnecessary sensitizing ingredients, Simple and Sensitive's hypo-allergenic formula is rigorously tested and clinically proven to be gentle on lips. Cocoa Butter A lush tropical extract with serious moisturizing properties. Sunflower Seed Oil A nutrient-rich oil selected for its comforting qualities. Jojoba A naturally-derived emollient that helps smooth and soften lips. Vitamin E A highly beneficial antioxidant. Microcrystalline Wax Helps give the formula an appealing form and feel. Phenoxyethanol A necessary preservative to maintain freshness.