Olay Exfoliating Cleanser
Cleanses 6x Better Than Basic Cleansing Limited Edition Red The Pro-X by Olay Advanced Cleansing System includes: 2 Speed Facial Cleansing Brush (with replaceable brush head) Exfoliating Renewal Cleanser (0.68 fl oz/20 ml) 2 AA Batteries Included Bonus Trial Size Olay Age Repair Lotion with Sunscreen Broad Spectrum SPF 30 (1 fl oz / 30 ml) Limited Edition Red Advanced Cleansing System - Pefect for the Holidays. Take your facial cleansing routine to a whole new level.  Olay Pro-X Advanced Cleansing System works 6x better than basic cleansing.  It's features were designed by a team of Olay scientists and leading dermatologists, to deliver outstanding results. The 2-speed rotating facial cleansing brush massages Olay Professional Pro-X Exfoliating Renewal Cleanser on your skin, a lathering micro-bead formula that thoroughly cleans as it gently exfoliates.  Just rub it onto your skin and let the power of the Facial Cleansing Brush go to work.  Each ...
2-in-1 foaming cleanser deep cleans and exfoliates to help minimize the appearance of pores. The Deep Cleansing Ribbons sweep away dirt and impurities, and the Exfoliating Microbead Ribbons refine the appearance of pores. Oil-Free. Pore Minimizing Cleanser + Scrub.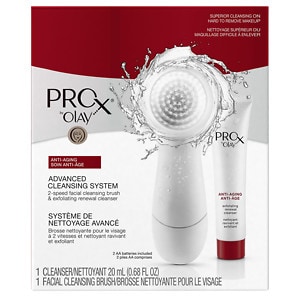 Cleanses skin 6x better* and helps maximize the immediate hydrating effectiveness of your anti-aging moisturizer. Leading dermatologists and Olay skin scientists have partnered to establish the Olay Professional Alliance.  Through this partnership, Pro-X was created to bring you prescribed regimens to treat your specific skin care concerns. Designed by a team of dermatologists along with Olay, the Advanced Cleansing System is as effective as a system sold by a skin professionals for nearly $200.** Plus, the Pro-X Advanced Cleansing System sets your skin up for supersonic anti-aging moisturization.*** Professionally Designed With The Following Features : 2-speed, rotating system delivers daily deep cleansing and gentle exfoliation. Water resistant for use in the shower. Replaceable soft bristle brush head (included).  Refills available. Pro-X Exfoliating Renewal Cleanser (sample included) recommended for daily exfoliation. Cleansing brush can also be used with a broad range of Olay ...