Palmer's Luxurious Beauty Product
Rich Anti-Aging Cream Firming and Smoothing Hydration with Retinol and Shea Butter. Fresh White Lilly Fragrance This fast absorbing anti-aging formula is loaded with targeted skin firming and smoothing ingredients. Powerful antioxidants and peptides work together with Cocoa and Shea Butters to leave skin soft, smooth and radiant.  The unique combination of these ingredients provides a luxurious cream to maintain moisture levels throughout the night for smoother, softer skin. Beneficial Ingredients: Cocoa and Shea Butters:  deeply moisturizes and nourishes  Retinol:  encourages skin's renewal  Peptide Complex:  supports skin structure and integrity Vitamin E:  powerful antioxidant   Aloe Vera:  soothes and calms skin  Milk Proteins: helps improve skin's texture and tone Evening Primrose: soothes stressed skin Palmer's is against animal testing. Palmer's does not manufacture store brands. Made in U.S.A.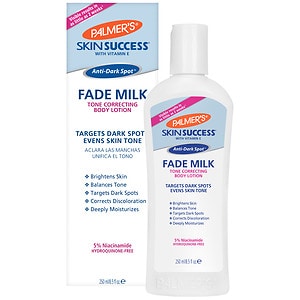 For Clearer, Brighter Skin All Over Body Fades Marks & Evens Skin Tone Palmer's Skin Success® Eventone® Fade Milk helps fade dark spots and evens skin tone all over body. Formulated with proven ingredients to lighten hyperpigmented area which may be caused by scars, acne, sun exposure, severe dryness or pregnancy.  Especially effective on problem areas such as knees and elbows.  Luxurious moisturizers smooth and soften skin's texture while eliminating ashiness.  With consistent use your skin will be clearer, brighter and glow with a newfound radiance.  An added sunscreen helps to maintain your skin and prevent darkening from reoccurring.  Palmer's Unconditional Guarantee...If not completely satisfied, simply return unused portion to manufacturer for full refund. Made in U.S.A.