Professional Cordless Trimmers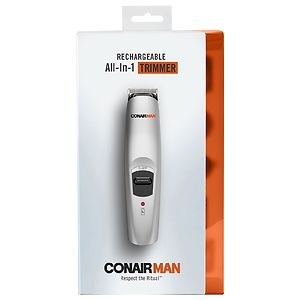 Best Cutting System* Beard & Mustache Trimmer Cordless/Rechargeable Detailing Blade Shaving Foil Nose/Ear Trimmer 3 Jawline Combs 5-Position Comb Beard & Mustache Trimmer For all facial hair lengths & styles. Detailing Blade For intricate definition. Shaving Foil For ultra-close & precise results. Ear/Nose Trimmer For safe removal of nose & ear hair. Taper Control For popular 2-day stubble look. Includes: Multi-Use handle Hair trimming blade Detailing blade Shaving foil 5-Position adjustable comb Nose/Ear hair trimmer 3 jawline combs Mustache comb Cleaning brush Lubricating oil Adapter Storage stand Limited 2 Year Warranty Model GMT189CGB *Conair professional quality ground stainless steel blades tested against top selling trimmers. Made in China Please Note: This item has been built to U.S. electronics specifications and may need additional modifications or converters to be used in countries other than the U.S. and Canada.
Maximum precision, minimum effort Advanced contour following system This rechargeable hair clipper has a patented zoom ring to ensure easy length setting. The extra precision, the advanced contour-following comb and lithium-ion battery guaranty a faster and more comfortable hair cutting experience. Maximum precision Professional precision: 38 lock-in precision length settings Advanced contour-following comb for speed and comfort Skin-friendly blades and combs are gentle to the skin Minimum effort Adjustable guide combs for extra convenience Quick Charge Power System: 1hr/60 minutes cordless use Corded and cordless use Battery charging, full and low indication Product comes in a luxury case for storage and protection Self-sharpening blades Lubrication for life Specifications Range of 38 length settings:Â  2 combs provide a full range of 38 length settings ranging from 3 to 40 with a precision of 1mm between each step up. Contour-following comb:Â  The 2D combs gently follow the ...