Radiant Lifting Skin Care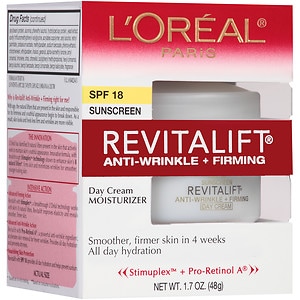 Experience advanced action against the signs of aging SPF 18 sunscreen Dermatologist Tested For Gentleness Non-Greasy Non-Comedogenic Fewer wrinkles.  Firmer skin.  In just two weeks.  A unique daily moisturizer with broad spectrum UVA/UVB SPF 18 sunscreen protection, Revitalift Complete Cream SPF 18 delivers anti-wrinkle and firming action for radiant, younger-looking skin. Fortified With Pro-Retinol A, Pro-Lastyl, And Criste Marine Extract, this increases cell turnover, reduces wrinkles, firms skin, and provides 24-hour hydration.  Fortified Pro-Retinol A and Criste Marine Extract accelerate skin renewal to reduce the number and length of lines and surface wrinkles.  Pro-Lastyl firms and renews elastin fibers and remodels the skin's natural surface, leaving it more toned and resilient.  Soothes and hydrates skin for 24 hours and leaves you looking more radiant. Recommended Regimen Step 1. Dermo-expertise cleanser & toner. Step 2. Revita Lift Eye Cream. Step 3. AM: Revita Lift ...
Your skin. Our Passion. We promise. Look 6 years younger in 4 weeks* Clinically tested Hypoallergenic Dermatologist approved 100% fragrance free 100% paraben free Skin Concern: Aging Potent moisturizer instantly enhances skin's firmness, hydration and radiance. SPF 15 protects against damaging UVA/UVB rays. Luxurious and lightweight formula improves the appearance of fine lines and wrinkles for an overall smoothing effect. Clinically Proven Visible Results* 100% felt skin looked firmer, smoother & more radiant instantly & long term 89% saw less fine lines instantly 96% felt skin was more moisturized in 2 weeks 93% felt skin appeared lifted in 4 weeks 73% showed a visible increase in surface cell turnover in 4 weeks 71% saw less deep wrinkles in 4 weeks *Based on a panel of women using the Aging system Cosmeceutical Ingredients: 5.0% Lifting Fruit Acid Blend - instantly reduces the appearance of fine lines and wrinkles by rehydrating and ...
New & Improved! Formula Essentials: With encapsulated Pro-Retinol A® + Pro-Lastyl™ Fragrance Free Dermatologist tested for gentleness Safe for contact lens wearers Opthalmologist tested Non-greasy Recommended Regimen: Step 1. L' Oreal Cleanser & Toner Step 2. RevitaLift Eye Cream Step 3. AM: RevitaLift Complete Cream, Complete Lotion, or Face & Neck Cream PM: RevitaLift Night Cream Intensive Treatments: Daily: RevitaLift Double Lifting Weekly: RevitaLift Mask New Advanced RevitaLift smoothes wrinkles and firms skin as it remodels skin's surface from within.  New ADVANCED REVITALIFT® EYE is created specially to care for the delicate area around the eyes, to fight wrinkles, firm skin, and reduces the "morning puffy look". Innovation: Advanced Anti-Wrinkle & Firming Technology Experience advanced action against the signs of aging.  New Advanced RevitaLift with powerful ingredients, Pro-Retinol A®, Pro-Lastyl™, and Criste Marine Extract, increases cell turnover, reduces wrinkles, ...