Razor Smooth Aluminum Scooter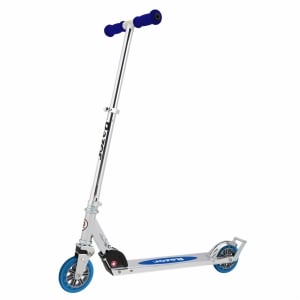 Product Features Classic kick scooter made of sturdy aircraft-grade aluminum with blue highlights 125 mm inline-style urethane wheels with springless shock-absorbing system Patented rear fender brake for quick stops; all-new wheelie bar design Patented folding mechanism makes carrying easy; supports up to 143 pounds Recommended for ages 6 and older; 6-month warranty  The original kick scooter just got a whole lot better, making it even more fun for kids and teens alike.  Though it'll never replace the internal combustion engine, the Razor A3 will get your child from point A to point B much quicker than on foot alone, and requires just a few scoots of one's shoes in the process.  Plus, it's a blast to use, as your progeny will likely attest. The Razor A3 is made of aircraft-grade aluminum, a sturdy material that holds up to use and abuse through the years.  Razor combined the traditional aluminum construction, ...
The Beginning of a Whole New Sport Designed, developed and tested by Team Razor Pro Rider John Radtke Built for pro riders who are looking for a nice, sleek style scooter Traditional BMX style 3-piece fork made of 4130 Cro-Moly construction High pressure (80 psi) tires with aggressive tread for dirt or smooth surfaces Introducing Phase Two, designed, developed and tested by some of the best riders in the world.  The Dirt Scoot has been tested and refined over the past two years to ensure the releasing of this product is of the very highest quality.  Perfect for parks and streets, this Phase Two scooter features a traditional BMX style 3-piece fork made of 4130 Cro-Moly with threadless HIC steered, Oversized (HIC compatible) bars Made of 4130 Cro-Moly for durability and performance, riser Y-bar design with 3 degrees of back sweep and pro style soft grips, 5" wide extruded aluminum ...
Smooth as Silk Tough as Nails New CroMoly riser handlebar, 21" (533mm) tall, 18" (457mm) wide Soft rubber grips Threaded 110mm compatible fork Triple stacked headtube clamp 83 degree headtube angle Deck length 20" (520mm), 4.25" (108mm) width Full deck grip tape 5 spoke red alloy core 110mm high-grade urethane 84A wheels with RZR Pro 30 bearings New extruded brake Some assembly required Have you taken your scooter riding to the next level?  Then the Razor Black Label line is for you! Crafted for those who demand the highest performance and the most sophisticated design.  Black Label includes exclusive features that will enhance your performance and stand up to your toughest tricks.  With its triple stacked head tube clamp, 4130 CroMoly steel fixed t-bar and alloy spoke wheels, The Razor Black Label Pro 3.0 Scooter is for riders with the skills to pay the bills.  Its competition ready right out ...