Remington Cordless Electric Shavers
New! Individually Flexing Dual Track Cutters 2 Flexing Heads Adjust To Your Face Rechargeable Cordless Razor Surgical Grade Steel Blades Great For: Work At The Gym Quick Weekend Shaves Quick!  Versatile!  Convenient! The Remington® Dual Flex shaver has two shaving tracks instead of one.  That means a faster shave in fewer passes.  And the compact design makes it great for use at home, at work, the gym - just about anywhere! Two Floating Heads Push Button Start Charging LED Indicator Standard Rotary Head Remington Dual Track Made in China Please Note: This item has been built to U.S. electronics specifications and may need additional modifications or converters to be used in countries other than the U.S. and Canada.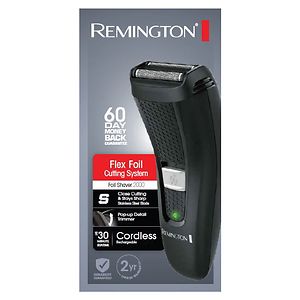 Close, Even on the Neck Flex Foil Technology - F2 Blades Adjust to the Contours of Your Face 30 Minutes of Cordless Shaving Surgical Steel Blades Pop-Up Trimmer Rechargeable Foils Flex Independently Surgical Steel Blades - Sharp & Long-Lasting Charging Indicator Pop-Up Trimmer - Detail Facial Hair & Trim Up Sideburns Flexing Foil Technology gives you an ultra-close, ultra-clean look.  The first foil cuts hair close while gently stretching the skin so the second foil can shave even closer. Cutting System Two Flexing Foils Adjust to your face, chin and jawline. Stainless Steel Blades Sharp and long-lasting. Power System Rechargeable Cordless razor. Charging Indicator Convenience Pop-Up Trimmer For precise detailing. Getting You Ready Since 1937 Over 75 years ago we introduced our first electric shaver to the world.  Since then we've been advancing shaving and grooming technology for you and millions of guys across the globe. Quality Products, Lower Prices ...