Scented Non Toxic Detergent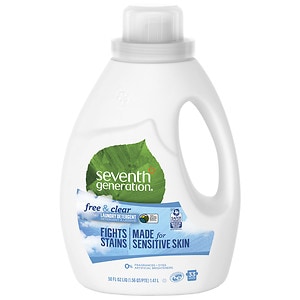 NOTE:  Product received may temporarily differ from image shown due to packaging update.  Image & product details will be revised, shortly Seventh Generation Natural 2x Concentrated Laundry Detergent effectively removes stains, dirt, and grease.  Each capful of this plant-derived, biodegradable formula is non-toxic, hypoallergenic and does not contain optical brighteners.  Septic-safe and effective in hot or cold water, a little goes a long way with our concentrated formula. Scented with 100% whole essential oils & botanical extracts, or available in an unscented Free & Clear version, it's formulated to work well in both standard and high efficiency machines. For the past 20 years, it's been our mission to help you protect your world with our environmentally responsible and effective household products.  By choosing Seventh Generation household products, you create a healthy environment for you and your family. Questions? Comments?  Please call us at 1-800-456-1191, Weekdays ...
Lavender with Vanilla A soothing blend of fresh-cut lavender petals wrapped in silky touches of vanilla scented heliotrope and crushed patchouli with yarrow leaves.  Fragrance contains essential oils lavender + patchouli + yarrow along with a blend of safe man-made ingredients to ensure a long lasting scent throughout the washing and drying cycles. 24 Loads Non-Toxic Naturally-Derived Ingredients Phosphate Free Dye Free Specially Formulated for HE & Standard Machines Pre-Measured Concentrated Powder Pods Cleans Thoroughly Removes Stains Enhances Softness Why Grab? Pre-Measured Pods Convenient Easy to Carry No Mess + No Waste All Temperatures HE Compatible Why Green? Non-Toxic Naturally-Derived Ingredients No Animal Testing No Optical Brighteners Dye Free + Phosphate Free Safe for Septic Systems Naturally-Derived Ingredients Sodium Percarbonate Made from soda ash - active oxygen aids in cleaning + removes stains Soda Ash Mineral - water softener Sodium Metasilicate Mineral - aids ...
Classic 2X Concentrate Non-Toxic Chlorine Bleach Free Degradable Powdered Why The Laundress: We created The Laundress All-Purpose Bleach Alternative because we do not like what bleach does to our fabrics and our environment. Safely whiten, brighten and disinfect everything in your home with our Classic-scented alternative. Our All-Purpose Bleach Alternative is a non-toxic, non-abrasive & environmentally-friendly multi-purpose household cleaner. Effective in all water temperatures & systems. We are committed to being a green and clean company for you, your family and the environment. - Gwen & Lindsey All The Laundress products are tested on Gwen & Lindsey. Animal cruelty free/no animal by-products. Made with natural ingredients - texture and color may vary. HE - High Efficiency VOC, phosphate, phthalate and dye free. Made in the U.S.A.