Sensitive Contact Lenses Solution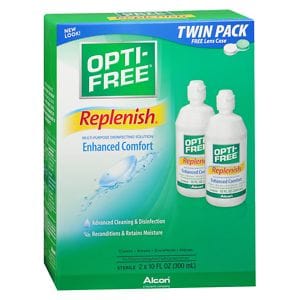 For silicone, hydrogel and soft contact lenses 2 Bottles (300ml) Each Multi-Purpose Disinfecting Solution Retains Moisture for Enhanced Comfort Reconditions lenses to retain surface moisture for enhanced comfort.  Removes protein daily / No rub Cleans Reconditions Rinses Disinfects Stores Sterile Promotes:   lens cleanliness, wettability, lens surface moisture, comfort, and clear vision. Reduces:   protein build-up, lens deposits, discomfort, and appearance of redness. Opti-Free® RepleniSH™ - Multi-Purpose Disinfecting Solution is a proprietary formula that is specially designed to recondition your silicone hydrogel and other soft contact lenses so that your eyes feel fresh and moist throughout the lens wear day.  Only Opti-Free® RepleniSH™ Multi-Purpose Disinfecting Solution contains a proprietary dual action conditioning system TearGlyde™ that is proven to recondition and retain moisture on the lens surface everyday. Long lasting reconditioning agents work to keep your lenses ...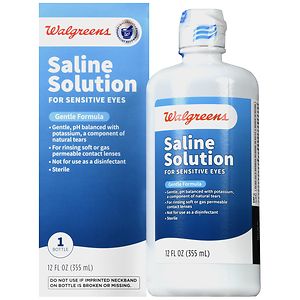 For Daily & Extended Wear Soft (Hydrophilic) Contact Lenses Sterile Rinsing, storage & heat (thermal) disinfection Thimerosal-free formula Especially for sensitive eyes Not for use as a disinfectant Walgreens® Saline Solution is a thimerosal-free preserved saline solution.  It is a safe and effective product that removes loosened debris from the lens when used as a rinse after cleaning.  It also removes existing calcium deposits, and prevents new deposits from accumulating, when used as directed in heat (thermal) disinfection.  Walgreens Saline Solution is an effective rinsing solution when used with chemical (not heat) and hydrogen peroxide disinfection, and as a diluent for enzymatic cleaning tablets. Walgreens Way to Well Commitment® Support local preventive wellness with Walgreens.  With each purchase of Walgreens Brand Health & Wellness Product, 1� goes to the Walgreens Way to Well Fund®, up to $3 million annually. Contents:  A sterile, isotonic, buffered solution that ...
Two 10 fl oz (300 mL) Bottles Lasting Comfort Formula Removes Protein Daily Cleans Rinses Disinfects Stores Sterile / For any soft contact lenses including silicone hydrogel lenses. Enjoy clean and comfortable lenses without rubbing.  Unlike ordinary multipurpose solutions that require a digital rub, Opti-Free® Express® MPDS  does the hard work for you, taking that rubbing step out of your care routine.  Lasting Moisture, Lasting Comfort Opti-Free® Express® MPDS  keeps your lenses feeling clean and comfortable while you wear them. Lasting comfort all day long All steps in one bottle No rubbing needed Cleans right in the case Disinfects Removes protein daily (No separate enzyme cleaner is required when used daily.) Ingredients: Citrate*, Tetronic 1304**, AMP-95** (Cleaning Benefits: gentle cleaners work together while lenses soak to remove daily protein deposits, dirt, and shield lenses against build up. Provides fresh, comfortable lens-wear every day.) Tetronic 1304*, Sodium ...