Shoprider 4 Wheel Scooter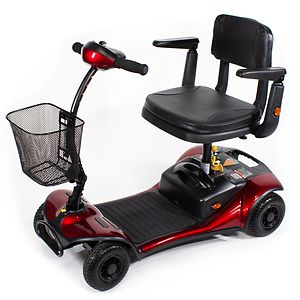 The Dasher™scooter from Shoprider sets another gold standard in portable mobility. Packed with industry first features, the Dasher™ is the first scooter with Splash n dash™ quick color change moldings. It's the first completely connector less portable scooter, with its heaviest component an industry leading 26lbs! talk about ULTRA value...Dashers™ have solid tires, a comfortable swivel seat with arms, and a basket included in the price without the need for an upgrade! the brand you know. The quality you trust, ULTRA portable. ULTRA lightweight. ULTRA value. Features: Splash-n-Dash™ quick color change system Red, Blue, and Champagne color panels included Heaviest part weights only 33 pounds  The easiest disassembly and re-assembly in the industry virtually eliminating the need and expense for special lifts or ramps Convenient swiveling seat feature while seated Seat height & tiller adjustable Overall Dimensions (L1 x W x H) 44 x 22 x 33 Number, Size of Tires Front ...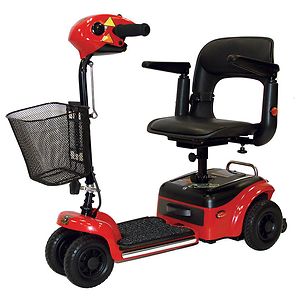 The Scootie 4-wheel portable mobility scooter has a narrow 17" width that makes it ideal for maneuvering on cruise ships.  The patented articulating front wheels allow 4-wheel stability with 3-wheel maneuverability.  Adjustable flip-up arms. Removable battery pack included. Convenient storage compartment for battery charger. Puncture proof tires. Overall Width: 17" Overall Height: 34" Overall Length: 37"- 40" Motor: 0.75HP Battery Type: 12V, 12AH x 2 Battery Charger: 2AH, off board Range: 10 miles Speed: 3.5 mph Weight Capacity: 250 lbs. Weight of Heaviest Part: 25 lbs. Weight w/o Battery: 60 lbs. Weight w/ Battery: 82 lbs. Ground Clearance: 2" Grade Climbing: 8o  Turing Radius: 40" Tire Size: 7" x 8" Front and Rear 1 1 year warranty on parts. Labor service is included only within 30 days of purchase. Customer must pay labor charges after 30 days. Batteries -- 6 months Please call with any questions or need of assistance at ...