Smooth Medicated Lip Balm
Lip Balm | Skin Protectant Your Lips Are Thirsty For It! Chap-et(® Medicated Lip Balm is specially formulated to relieve the pain and itching associated with fever blisters and cold sores.
Moisturizes Dry Lips
Soothing Protection
Silky Smooth Formula Includes flavors: mint, cherry, bubble gum, vanilla, regular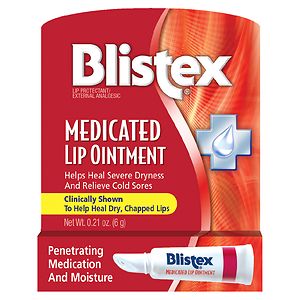 Penetrating Medication & Moisture Helps heal severe dryness and relieve cold sores Clinically Proven to Heal Dry, Chapped Lips An Advanced Moisture System® delivers penetrating medication in a unique formula to relieve cold sores & severe lip dryness. Contains four medications to provide relief from the pain, itching and discomfort of lip sores and blisters. Clinical Hydration™: The moisture and emollient base in Blistex Lip Ointment hydrates and softens lip cells to alleviate cracking and seriously dry lips.  It is so effective, it's clinically proven to elevate lip moisture, heal dry, chapped lips, and improve overall condition. Beauty Professionals also use it to smooth lip texture before applying color.  To use as a lipstick base, apply liberally, leave on for five minutes, then remove excess and apply color.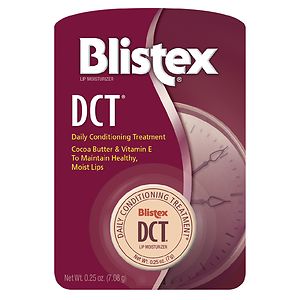 Daily Conditioning Treatment for Lips® Lip Protectant & Sunscreen For Healthy, Moist Lips Cocoa Butter Aloe Vitamins A & E Blistex DCT combines moisturizers, vitamins and protectants to provide a daily maintenance regimen for your lips. Smooth & Supple Lips DCT nurtures your lips with two proven moisturizers, Aloe and Cocoa Butter, plus Vitamins A&E. DCT softens and smoothes the surface of lips to help them look and feel young. DCT helps to prevent and replenish moisture-starved cells that can occur from daily exposure to dry air and other environmental conditions. Sun Protection Aminobenzoic acid (PABA)-free DCT provides SPF 20 protection. Sun Alert Limiting sun exposure, wearing protective clothing, and using sunscreens may reduce the risks of skin aging, skin cancer and other harmful effects of the sun. Made in USA