Soap Free Lavender Cleanser
A Skin Care System Researched & Developed by The International Dermal Institute Recommended For All Skin Conditions A rich, skin-conditioning botanical cleanser for the entire body.  Soap-free Quillaja Saponaria Extract thoroughly cleanses the skin, leaving it feeling soft & silky.  Essential oils of Tea Tree, Lemon, Eucalyptus & Rosemary gently purify without stripping the skin's own natural moisturizers.  The soothingly fragrant essential oils of Sandalwood, Lavender, Orange & Clary Sage moisturize the skin, leaving it smooth & conditioned.  Contains no artificial fragrance or color. 1-800-831-5150 Made in USA Additional Product Information: We are not associated or affiliated with Dermalogica and are not a licensed retailer of Dermalogica.  Dermalogica guarantees this product only when sold through authorized retailers, and cannot guarantee the authenticity of any product sold by an unauthorized retailer.  We cannot guarantee that this product is covered by any manufacturer's ...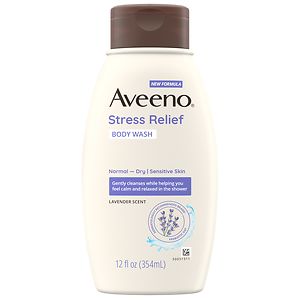 Please note: Due to packaging updates, the image shown may temporarily appear different from the product received. Cleanses And Moisturizes To Relieve Dry Skin With natural colloidal oatmeal Calms and relaxes with lavender, chamomile and ylang - ylang Dermatologist recommended (for over 60 years) This creamy body wash is clinically shown to help calm and relax you in the shower while cleansing and moisturizing, so your skin feels soft and smooth all day long.  This unique AVEENO® formula combines skin - soothing natural colloidal oatmeal with the relaxing scents of lavender and essential chamomile and ylang - ylang oils, which have calming benefits when used in a shower or bath.  This creamy body wash gently cleanses and works to hydrate and soothe dry skin, leaving skin softer and smoother all day long.  And it is soap - free, dye - free and hypoallergenic so it's even gentle enough for sensitive ...