Stimulating Artificial Skin Care
A skin care system researched and developed by The International Dermal Institute Recommended for the smart management and treatment of skin aging.  A refreshing antioxidant shield with flash-firming properties to improve skin texture while intensely hydrating dry, dehydrated skin.  Convenient mist-on formula supplements skin's protective barrier by creating an active antioxidant shield of White Tea, Licorice and Vitamin E to fight damaging free radicals, while a patented polypeptide helps prevent the signs of aging caused by Advanced Glycation End-products (AGEs - a damaging byproduct of sugar/protein reactions in the skin).  A highly-active Vitamin C complex, combined with collagen-stimulating peptides, encourages firmness and elasticity to help reduce the appearance of fine lines.  Hyaluronic Acid acts as a hydration magnet to quench dehydrated skin while Pea Extract creates instant firming action to lift and tighten.  Rose and Clove extracts comfort and refresh skin.  Contains ...
New More Sustainable Peppermint Essential Oil, Wheat Protein, Aloe and Gentle Botanical Cleansers Help Purify & Revitalize Extra Dry Skin NSF ~ Contains Organic Ingredients Contains 70% Organic Content Safe, Effective, Certified, Natural Body Care without Synthetic Fragrances, Phthalates, Harsh Sulfates or Parabens Bottle Made with 100% Recyclable Material Bath & Shower Gel with Peppermint Essential Oil Rebalance and revitalize.  Nourishing botanicals and gentle cleansers help purify and replenish even extra dry skin while the stimulating aroma of Peppermint energizes the mind and body. Consciousness in Cosmetics® Avalon Organics® creates Consciousness in Cosmetics , an awareness of intention, responsibility, efficacy and the value of life. Containing 70% organic content, our science-based body care products are not tested on animals and do not contain parabens or other harsh preservatives, mineral oil, sulfates, propylene glycol, artificial colors or synthetic fragrances to ...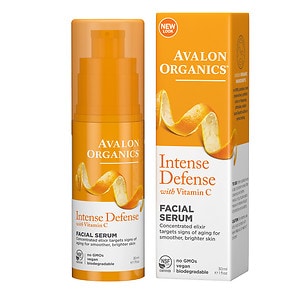 (Product received may temporarily differ from image shown due to packaging update.  Image & product details will be revised, shortly) Our Vitality Facial Serum with Activated Vitamin C will energize your complexion with improved circulation, clarity, tone and texture.  This highly concentrated blend of certified organic botanicals, soothing plant emollients and powerful antioxidants is easily absorbed for optimum age-defying benefits. Activated Vitamin C (Magnesium Ascorbyl Phosphate) is a powerful antioxidant proven to defend against the damaging effects of free-radicals that can age skin prematurely.  Activated Vitamin C will help repair and protect your skin from the signs of aging by naturally boosting collagen and elastin production, stimulating cell renewal and increasing healthy circulation for a youthful, luminous complexion. Perfect for all skin types pH balanced Avalon Active Organics guarantees 70% certified organic ingredients.  Certified Organic Credibility requires ...