Synthetic Shea Butter Conditioner
Amazingly Beautiful, Healthy Hair Enrich | Fortify Protects hair from heat damage Shield color from UVA, UVB oxidation & fading Softens & smooths hair Renewable, beneficial, plant-based, color safe ingredients Certified organic extracts 85% post consumer recycled bottles 100% certified wind power 100% recycled fiber containers Vegan PETA approved Rehydrate thirsty hair with an extra dose of moisture.  This ultra rich hydrating treatment seals in moisture while enhancing overall condition, strength and manageability.  Featuring a proprietary blend of plant extracts and essential oils Phyto Color Complex™ maximizes color hue, vibrancy and longevity while Phyto UV Shield™, an exclusive blend of plant nutrients, protects color from UVA & UVB oxidation.  Renewing formula helps control frizz and flyaways while restoring softness, smoothness and shine to hair.  What makes this formula special?  Phyto Color Complex:  A gentle, natural surfactant system that removes environmental ...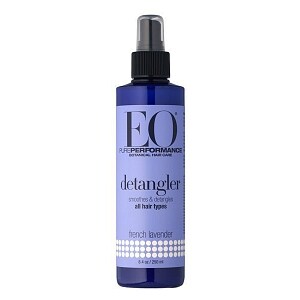 Love Life.  Live Clean. French Lavender Essential Oil heals and nurtures. Quinoa Protein, high in amino acids penetrates to fortify, condition and repair hair. Gotu Kola stimulates blood circulation, revitalizing hair follicles to improve hair growth and health. Mushroom Complex of Nameko, Reishi, Shiitake and Cordyceps deeply repairs for fuller, stronger hair. Organic Jojoba Oil blends with Avocado, Sweet Almond, Coconut Oil and Shea Butter to deeply condition and protect hair. Quillaja Extract boosts moisture retention and promotes scalp health. Vegetable Glycerin softens hair by locking moisture into the hair shaft. Papaya, Evening Primrose, Pomegranate, and Alfalfa Extracts to nourish and revitalize hair. EO® French Lavender Detangler Spray combines synergistic ingredients to tame and nurture even the most unruly locks.  Pure Lavender Essential Oil and Organic Botanicals work in harmony to calm and define each strand and restore hair health.  It Deeply hydrates and restores ...